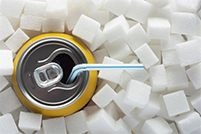 Welcome to the Sugar Mini Challenge and congratulations on making the decision to understand & modify your sugar intake. This is a very important step in leading a healthier lifestyle, as sugar has been called the single worst ingredient in the modern diet, leading to weight gain, elevated blood sugar and high blood pressure.
During this Mini Challenge, you will:
Learn how much sugar you are eating;
Develop a plan to cut back on your sugar intake; and
Take steps to reduce your sugar intake.
Sugar is hidden in all kinds of unexpected places—even "healthy" foods can be full of sugar—so you might be surprised to find out how much you are actually eating.
Follow this 6-week program to take charge of your sugar intake, before it takes charge of you.