Goal: Reduce your sugar intake by 1/3.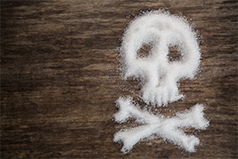 I bet the amount of sugar you are consuming is a bit of a shock to you. This week we will focus on starting to cut back on the amount of consumption. Make sure you first start with the video "How Sugar Impacts the Brain", so you will get an idea how your body might be addicted and because of that a little difficult to cut back. However, do not worry – YOU CAN DO THIS! We will start slow so we can make consistent, sustainable progress.
After the video take the short quiz and follow the action steps to start the cut back process.
How Sugar Affects the Brain - by Nicole Avena and STK Films
Action Step:
Watch this video and take the short quiz afterwards.
Action Step:
Make a cutback plan for week 2.
Take out your Sugar Tracker from week 1. Look over the Tracker and make a plan to reduce your total sugar intake by 1/3 each day. Take the time today to make a plan for the rest of the week to support the 1/3 a day reduction. The plan might be replacing some items you are eating or adjusting the amount. Make sure you have the right tools/foods in place to accomplish this. Going into each day with a plan will keep you on track. Not having a plan will likely bring you back to your old habits.
Here are some ideas:
Take inventory of the sugary items you drink.

How many do you have each day? Take that number and try to reduce that amount by 1/3.

Here are a couple of examples of how this exercise might go:

Colas: If you have 3 colas a day that are 39g each (so a total of 117g of sugar just in cola), reduce that by 1/3 and only have 2.

If you only have 1 cola each day (so a total of 39g) then just have 2/3 of your sweet beverage and chunk the rest. I know throwing out something you paid for does not feel good, but I promise your body will thank you for it. And eventually you will be saving money, because you will not need to buy that sugary drink to begin with.

TIP: If you are stopping at your local gas station and filling up the "Big Guzzler" take note of how many servings is in one cup – it could be as much as 4 or 5 servings depending on the size of the cup and how much ice you add. To know how much you are drinking, take your drinking cup of choice home and take a measuring cup with water and fill your drinking cup to the desired serving size - take note of how far up the cup it goes. The next day at the gas station, add your cola first to that mark then put your ice in.

Juices: If you like juice, start mixing in water or sparkling water and reducing the amount of juice.

Take inventory of the items where you add sugar. If you put 3 packets of sugar in your coffee each morning, cut back to 2.
Take inventory of the sugary snacks you are eating each day. If you're eating 3 sugary snacks a day, cut back to 2 or replace one with some nuts or fresh whole fruit.
Write your plan out on the Week 2 Sugar Tracker. You will also use this to track what you actually eat, so you can see how much you deviate from the plan.
Action Step:
Don't forget to track your food for today.
Action Step:
Start the cutting back process.
Is Sugar in Fruit Different Than Sugar in Soda? - by University of California
Now that you have a plan, start putting that plan in place. The rest of this week you will be cutting your sugars by 1/3. Each day you will continue to track your food through your Sugar Tracker and measure the amount of sugar you intake.
Put your week 1 Sugar Visual bag to the side to keep as reference and start your week 2 Sugar Visual bag. This will be great motivation to see how much sugar you have cut from your diet each week.
If you have a sweet tooth, try satisfying your cravings with naturally sweet foods like fresh, whole fruit. To learn more about fruit and how the sugar found in it is different from added sugar watch this video: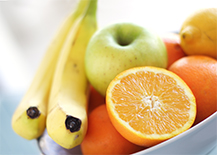 Sugar in Fruit: Fructose is in whole fruits. But there is a big difference when we eat it in whole fruit as opposed to it being an added ingredient or changed into items like fruit juice. Fructose in whole fruits are encased in fiber, which helps to slow down the absorption and so it doesn't get fast, direct access to the liver, like it does when it is modified with the fiber removed. Adults should be eating at least 1½ cups of whole fruit each day. And studies have shown eating whole fruit helps protect against some cancers, heart disease, stroke, and other conditions.