Goal: Identify the bad for you sweets, treats and snacks that you love and dump them today.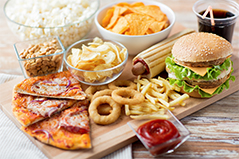 Ok, we all know that you have been holding onto your favorites. Maybe it's just one sugary, gooey one or several, you know who they are - "Oatmeal Cream Pie"..."Rocky Road"...sound like familiar names? It is time to make your final break-up plan.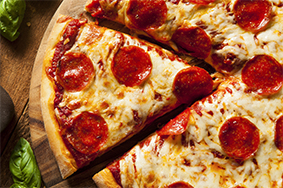 Action Step:
Make a breakup plan for week 5.
Identify the bad for you sweets, treats and snacks that you love and dump them today.
If breaking up with your favorites has you reaching the recommended amounts: Women: 6 tsp. (25g) Men: 9 tsp. (38g) then that is all you will need to do this week – stay broken up.  But if you are still far away, look at continuing to reduce your sugar intake by 1/4 or 1/3 to get you closer to the recommended amounts.
Make your plan and take the steps to prepare for the week.  Here is the Sugar Tracker for Week 5 to help make your plan.
Action Step:
Don't forget to track your food for today.
Action Step:
Stay Broken-up!
The rest of this week you will work on sticking to your plan. Each day you will continue to track your food through your Sugar Tracker and measure the amount of sugar you intake. 
Put your week 4 Sugar Visual bag to the side to keep as reference and start your week 5 Sugar Visual bag.
Action Step:
Learn the Role of Carbs.
As you are working to keep your old flames at bay, distract yourself by learning about carbs. Sugar makes up just one of the three main types of carbohydrates, so it's time to learn more about the other two.
Carbohydrates often get a bad rap, especially when it comes to weight gain. But carbohydrates aren't all bad. Because of their numerous health benefits, carbohydrates have a rightful place in your diet. In fact, your body needs carbohydrates to function well.
But some carbohydrates might be better for you than others.
Types of carbohydrates
There are three main types of carbohydrates:
Sugar. Sugar is the simplest form of carbohydrate and occurs naturally in some foods, including fruits, vegetables, milk and milk products. Types of sugar include fruit sugar (fructose), table sugar (sucrose) and milk sugar (lactose).
Starch. Starch is a complex carbohydrate, meaning it is made of many sugar units bonded together. Starch occurs naturally in vegetables, grains, and cooked dry beans and peas.
Fiber. Fiber also is a complex carbohydrate. It occurs naturally in fruits, vegetables, whole grains, and cooked dry beans and peas.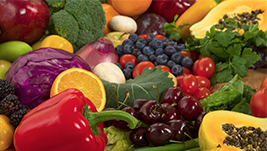 Carbohydrates and your health
Carbohydrates are your body's main fuel source. During digestion, sugars and starches are broken down into simple sugars. They're then absorbed into your bloodstream, where they're known as blood sugar (blood glucose).
From there, glucose enters your body's cells with the help of insulin. Glucose is used by your body for energy, and fuels all of your activities — whether it's going for a jog or simply breathing. Extra glucose is stored in your liver, muscles and other cells for later use, or is converted to fat.
Protecting against disease
Some evidence suggests that whole grains and dietary fiber from whole foods help reduce your risk of cardiovascular diseases. Fiber may also protect against obesity and type 2 diabetes. Fiber is also essential for optimal digestive health.
Controlling weight
Evidence shows that eating plenty of fruit, vegetables and whole grains can help you control your weight. Their bulk and fiber content aids weight control by helping you feel full on fewer calories. Contrary to what low-carb diets claim, very few studies show that a diet rich in healthy carbohydrates leads to weight gain or obesity.
Choose your carbohydrates wisely
Carbohydrates are an essential part of a healthy diet, and provide many important nutrients. Still, not all carbs are created equal.
Here's how to make healthy carbohydrates work in a balanced diet:
Emphasize fiber-rich fruits and vegetables. Aim for whole fresh, frozen and canned fruits and vegetables without added sugar. Other options are fruit juices and dried fruits, which are concentrated sources of natural sugar and therefore have more calories. Whole fruits and vegetables also add fiber, water and bulk, which help you feel fuller on fewer calories.
Choose whole grains. Whole grains are better sources than refined grains of fiber and other important nutrients, such as B vitamins. Refined grains go through a process that strips out parts of the grain — along with some of the nutrients and fiber.
Stick to low-fat dairy products. Milk, cheese, yogurt and other dairy products are good sources of calcium and protein, plus many other vitamins and minerals. Consider the low-fat versions, to help limit calories and saturated fat. And beware of dairy products that have added sugar.
Eat more legumes. Legumes — which include beans, peas and lentils — are among the most versatile and nutritious foods available. They are typically low in fat and high in folate, potassium, iron and magnesium, and they contain beneficial fats and fiber. Legumes are a good source of protein and can be a healthy substitute for meat, which has more saturated fat and cholesterol.
Limit added sugars. Added sugar probably isn't harmful in small amounts. But there's no health advantage to consuming any amount of added sugar.
So choose your carbohydrates wisely. Limit foods with added sugars and refined grains, such as sugary drinks, desserts and candy, which are packed with calories but low in nutrition. Instead, go for fruits, vegetables and whole grains.