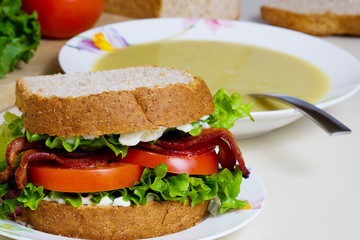 Can you believe that you've already been a sodium slayer for over a month? Keep up the great work and keep the momentum going, you're almost to the finish line!
Shopping for Food
With everything you've learned up until now, use your knowledge to shop for foods with lower sodium. Here are some tips to use at the store while shopping for food:
Choose packaged and prepared foods carefully. Compare labels and choose the product with the lowest amount of sodium (per serving) you can find in your store. You might be surprised that different brands of the same food can have different sodium levels.
Pick fresh and frozen poultry that hasn't been injected with a sodium solution. Check the fine print on the packaging for terms like "broth," "saline" or "sodium solution." Sodium levels in unseasoned fresh meats are around 100 mg or less per 4-ounce serving.
Choose condiments carefully. For example, soy sauce, bottled salad dressings, dips, ketchup, jarred salsas, capers, mustard, pickles, olives and relish can be sky-high in sodium. Look for a reduced or lower-sodium version.
Choose canned vegetables labeled "no salt added" and frozen vegetables without salty sauces. When you add these to a casserole, soup, or other mixed dish, there will be so many other ingredients involved that you won't miss the salt.
Look for products with the American Heart Association's (AHA) Heart-Check mark to find foods that can be part of an overall healthy dietary pattern. Heart-Check is not a low-sodium program and the Heart-Check mark is not necessarily a sign that a product is "low-sodium", but it does mean that the food meets AHA's sodium criteria to have the Heart-Check mark. You can eat foods with varying amounts of sodium and still achieve a balanced and heart-healthy diet. To learn more about the Heart-Check Food Certification Program, visit www.heartcheck.org.
Action Step:
While you are shopping for food this week, use these tips to find lower sodium options that will help you reach your goal this week.
Action Step:
Write down your Week 4 Total Daily Sodium Goal and don't forget to track your sodium today.
This week's Salty Six is focused on sandwiches.
A sandwich or burger from a fast food restaurant can contain more than 100% of your daily dietary sodium limit. Try eating a half sandwich with a side salad and a lower-sodium dressing. When you cut calories, you usually cut the sodium too.
Replace some of the meat, cheese, and condiments in sandwiches with fruits and vegetables. Most fruits and veggies are naturally low in sodium. You can try avocado, lettuce, tomato, cucumber, or even sliced apple. The possibilities are endless!
Soup can't be bad if that's what you eat to make you feel better when you're sick, right? Well, one cup of canned chicken noodle soup can have up to 940 mg of sodium. Make a big batch of your own using the cooking tips from week 2 and freeze the leftovers, or add plain frozen veggies to a lower-sodium variety of canned soup so there is less sodium per serving. Also, be sure to check the Nutrition Label to choose soups with the lowest sodium possible.
Action Step:
If you normally eat sandwiches & soups each week, look for ways to include lower sodium ingredients. And use the tips for shopping for food to help you find lower sodium ingredients to make your own soups.
Action Step:
Continue tracking your sodium intake for the rest of this week and work to reach your Week 4 Total Daily Sodium Goal.