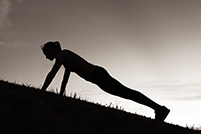 Welcome to the Plank Mini Challenge. A plank helps you to build strength in your core, upper and lower body - so it's a good full body work out. It also really helps improve flexibility by stretching muscles and will improve posture if performed regularly.
By following this 6-week program, you will:
Learn how to plank;
Build-up your core strength; and
Maybe even lose an inch or so around the waist!
You do not need any equipment to perform this exercise; all you need is a bit of space. In addition, you might want to have an exercise mat or pad for your elbows and knees when you are at rest or use a soft surface such as a grassy outdoors area.
If you are already familiar with the plank exercises and feel as if you have mastered them, this might not be the right Mini Challenge for you. You might want to check out the Johnson & Johnson 7 Minute Workout App as an alternative to some core body strength workouts.