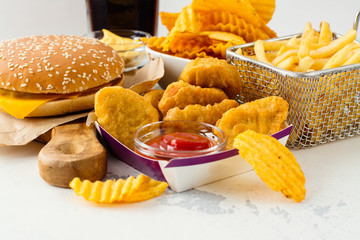 This week you will learn how to find the sodium hiding in your diet and begin tracking how much you consume. Tracking your sodium will give you a great foundation of knowledge for the rest of this Mini Challenge and will give you a baseline to work from when working to eat a healthier amount.
Where do we get most of our sodium?
Action Step:
Watch this video and take the short quiz afterwards.
In Day 1, you learned that most sodium Americans eat comes from processed, prepackaged and restaurant foods and not from the saltshaker. Learning how to read and understand food labels will help you track the amount of sodium in your diet.
Action Step:
Following these instructions, go through some of the prepackaged foods in your home or at the grocery store that you normally eat to see how much sodium they contain.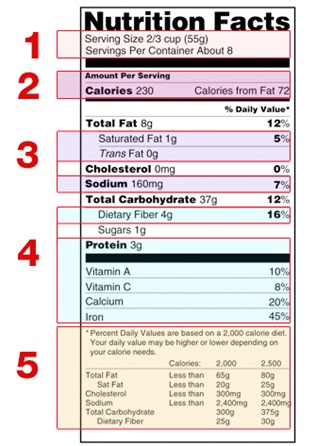 Start with the serving information at the top of the label.
This will tell you the size of a single serving and the total number of servings in the package.
Check total calories per serving.
Pay attention to the calories per serving and how many servings you're really consuming if you eat the whole package. If you double the servings you eat, you double the calories and nutrients.
Limit these nutrients.
Limit the amounts of saturated fat and sodium you eat, and avoid trans fat. Choose foods with less of these nutrients when possible.
Get enough of these nutrients.
Make sure you get enough of beneficial nutrients such as dietary fiber, protein, calcium, iron, vitamins and other nutrients you need every day.
Quick guide to the % Daily Value.
The % Daily Value (DV) tells you the percentage of each nutrient in a single serving, in terms of the daily recommended amount. As a guide, if you want to consume less of a nutrient (such as saturated fat or sodium), choose foods with a lower % DV — 5 % or less. If you want to consume more of a nutrient (such as fiber), seek foods with a higher % DV — 20 % or more.




Here are more tips for getting as much health information as possible from the Nutrition Facts label:
Remember that the information shown in these panels is based on 2,000 calories a day. You may need to consume less or more than 2,000 calories depending upon your age, gender, activity level, and whether you're trying to lose, gain or maintain your weight.

When the Nutrition Facts label says a food contains "0 g" of trans fat, but includes "partially hydrogenated oil" in the ingredient list, it means the food contains trans fat, but less than 0.5 grams of trans fat per serving. So, if you eat more than one serving, you could quickly reach your daily limit of trans fat
Action Step:
Begin tracking your sodium intake this week.
Daily Sodium Tracker
Week 1 – Sodium Tracker 

Make sure you are tracking your sodium intake each day on your tracker.

Helpful online trackers and apps. (Note: These online resources and apps are tools and potentially may not be 100% accurate, so be sure to check your food labels on the prepackaged foods you buy as well.)

My Fitness Pal
Sodium Tracker App
If you use a saltshaker to season foods at home, start doing this trick to see for yourself how much you use. Find a teaspoon measuring spoon – if you can get a 1/16 one. And instead of just shaking salt on your food measure it out and be more deliberate on how much you use. If you use the 1/16 one, you can start with a little and build on that if you find you need more.
Together, learning to read food labels and measuring the salt you are adding to food, you will be able to better track the sodium in your diet.
Action Step:
Find a teaspoon measuring spoon and begin using it today. As a reference – the ultimate goal would be to eat less than 1,500 mg per day. Tablespoon to mg equivalents:
1/16 teaspoon salt = 144 mg sodium
1/8 teaspoon salt = 288 mg sodium
1/4 teaspoon salt = 575 mg sodium
1/2 teaspoon salt = 1,150 mg sodium
3/4 teaspoon salt = 1,725 mg sodium
1 teaspoon salt = 2,300 mg sodium
Action Step:
Continue tracking your sodium today.
Action Step:
Learn these sodium-related terms and examples of ingredients that contain sodium that you may see on food packages for you to easily pick out foods that contain lower sodium:
Sodium-free – Less than 5 mg of sodium per serving and contains no sodium chloride
Very low sodium – 35 mg or less per serving
Low sodium – 140 mg or less per serving
Reduced (or less) sodium – At least 25% less sodium per serving than the usual sodium level
Light (for sodium-reduced products) – If the food is "low calorie" and "low fat" and sodium is reduced by at least 50% per serving
Light in sodium – If sodium is reduced by at least 50% per serving
Action Step:
Watch your ingredients. Sodium comes in many forms and can be hidden in multiple words on a label. Here are some examples of ingredients that contain sodium to watch out for:
Disodium guanylate (GMP)
Disodium inosinate (IMP)
Fleur de sel
Himalayan pink salt
Kosher salt
Monosodium glutamate (MSG)
Rock salt
Salt
Sea salt
Sodium bicarbonate
Sodium nitrate
Sodium citrate
Sodium chloride
Sodium diacetate
Sodium erythorbate
Sodium glutamate
Sodium lactate
Sodium lauryl Sulfate
Sodium metabisulfite
Sodium phosphate
Trisodium phosphate
Action Step:
Continue tracking your sodium intake for the rest of this week.